Parents say 'dream' school district has become a 'woke' nightmare: 'The joke's on us'
Iowa parents are outraged at their school district after a board member claimed the public education system is not supposed to teach kids "what the parents want."
Parents in the Linn-Mar School District in Marion sounded off Friday on comments posted by board member Rachel Wall on Facebook diminishing the parental role in public education.
"The purpose of a public ed is to not teach kids what the parents want. It is to teach them what society needs them to know. The client is not the parent, but the community," Wall's post said.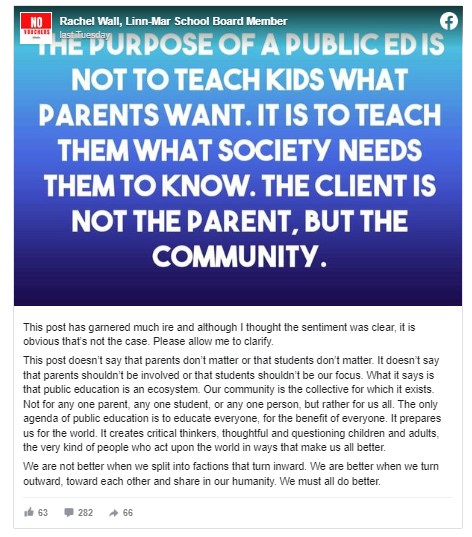 The Facebook post garnered much pushback in the comment section.
One mom in Linn County told "Fox & Friends First" she pulled her children out of the public school system in Fall 2022 to homeschool.
Geralyn Jones, the chair of a Moms for Liberty chapter in Iowa, said that she removed her children because of a transgender policy that allows students to choose which locker rooms and bathrooms to use.
"But most importantly, [the policy] supports keeping records from parents, and it excludes parents. So a child can have a like another file or a student file that is separate. And the school administration is not required to share that with parents," Jones said.
Responding to the backlash, Walls added to the Facebook post that "this post doesn't say that parents don't matter or that students don't matter."
"Our community is the collective for which it exists, not for any one parent, any one student or any one person, but rather for us all. The only agenda of public education is to educate everyone for the benefit of everyone," Walls clarified.
"Rachel Walls' response here was an embarrassing attempt to smooth things over with the parents and taxpayers of this district," Chelsea Newton, a Linn-Mar School District parent said.
"She's there to play her role as more of that echo chamber for the school board."
Newton said her family specifically moved to the Linn-Marr School District because of its reputation of having "one of the best schools in Iowa."
"The joke's on us," she said.
A Linn-Mar School District alum running for the school board echoed his disappointment in the state of affairs at the former "dream" district.
"We're in a sad state when have woke policies being shoved down parents' throats and no one can do anything about it," Gage West said. "I'm not proud to say I went to Linn-Mar, but I'm proud to see the change in the future."
"Parents like this have been coming to school board members every month, speaking up and saying they've had enough, but nothing's happening. No change is happening. And this November, we're going to see that change across the state of Iowa."
Fox News Digital reached out to the Linn-Mar Community School District, but they did not immediately respond.
The Facebook post comes after Iowa Gov. Kim Reynolds signed an unprecedented school choice bill, allowing any Iowa student to use public money to pay for private school tuition or other expenses.
"It opens up so many doors that we didn't have before," Jones said of the bill.
Group(s): Linn, IA, Newsletter - Linn IA Chapter
Source: Fox News
Released:

January 28th, 2023 10:00 AM

Author:

Joshua Q. Nelson

Website: foxnews.com