WCBU Peoria - All Things Peoria - Thursday, October 12, 2023 - Tazewell County Chapter of Moms for Liberty
WCBU's Collin Schopp takes an in-depth look at the new Moms for Liberty chapter in Tazewell County.
CLICK HERE FOR All Things Peoria October 12, 2023 (Moms for Liberty of Tazewell County's segment begins at 12 minutes and 45 seconds)
'How can I tell if these books are good or bad?': New Moms for Liberty chapter starts in Tazewell County
WCBU | By Collin Schopp
Published October 12, 2023 at 1:56 PM CDT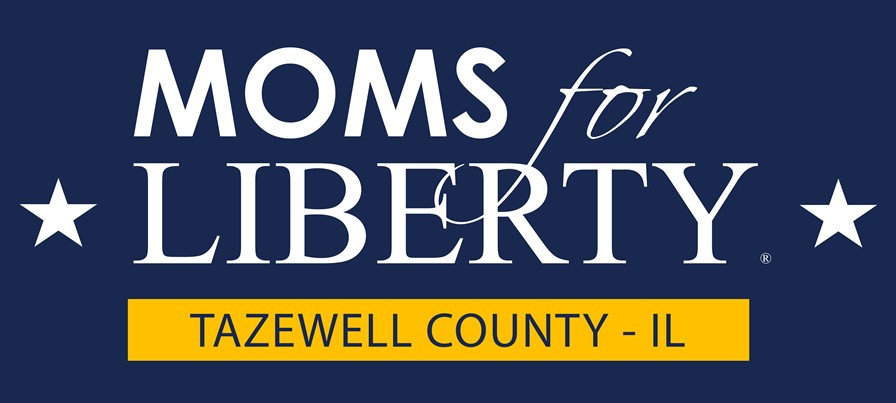 Moms for Liberty Tazewell County
The national group that rose out of opposition to pandemic era public health measures and repeatedly made headlines over the last three years now has a small chapter in Tazewell County.
Some progressive non-profits label Moms For Liberty as anti-government extremists.
Virg Cihla, Dee Fogal and Suzette Swift make up the board of the new chapter in Central Illinois. They disagree with these labels.
None of them have children currently in school, though Cihla does have a granddaughter in a Tazewell County district and Fogal grew up in Pekin.
Fogal had previously attended school board meetings to denounce the use of masking in schools during public comment. It's from these appearances she became involved with the chapter's previous iteration as Student First Principles.
"I was very, very energetic about it and passionate and wanted to see some changes happening," Fogal said. "Because I saw most everything at the state level. So all of that drew me into Student First Principles and I was asked to be on the board."
Cihla and Swift previously helmed Student First Principles, which aimed to support candidates in the April 2023 school board elections backing policies that "put students first." Cihla said these included standing against politically-charged topics like critical race theory and COVID-19 mask mandates.
"We had three people actually circulate petitions," he said. "Before the ballots were cast, one of the three withdrew their petition because of an employment opportunity in ministry."
Neither of their candidates won, entering races in Tremont and Brookfield. But Cihla hopes they try again.
Student First Principles didn't keep a membership list, but Cihla estimates about 20 different individuals attended a meeting in the year or so the group existed. At the time of publishing, the Moms For Liberty Tazewell County Chapter private Facebook group has nine total members.
The board members say, with the change to being a Moms for Liberty chapter, they have access to more "experience" and resources to grow their group. Cihla was wearing a new Moms for Liberty polo shirt.
"There's all kinds of testimonials and how different counties, there's an organization, there's a monthly Zoom call for chapter chairs to participate to see what other counties have been successful in doing," he said. "I mean, there's just a wealth of people to ask and talk to."
Other benefits include a public web site, a record-keeping system and customer relationship management software for sending newsletters. They also have access to Moms for Liberty's legal team, should they need them.
Cihla said these benefits don't include any direct funding, and the organization's website lists the cost of their startup kit at sixty five dollars.
The board also hopes the shift to being a Moms for Liberty Chapter stokes more interest in the group. Fogal hopes the chapter can act as a vehicle for the concerns of parents who are "fearful."
"They're fearful to speak up at meetings for retaliation," she said. "And I just don't think that's an environment we should be in at this time. Parents should be able to speak up."
When asked what retaliation these parents fear, Fogal posited it could be directed at students. That students would be bullied, shunned or treated differently because of their parents' vocal politics. Fogal said these parents are concerned about issues like masking, vaccine mandates and the presence of books including discussion or depiction of sex in school libraries.
"I have one mother who said: 'if my child brings home a book that talks about sex in any way or shows any pictures of sex in any way, between two people. Adults and child or children, then I'm going straight to the sheriff and filing charges,'" she said. "This is not, our children do not need, we need to protect the innocence of our children."
More generally, Cihla said the Tazewell Chapter of Moms for Liberty has three main priorities: build candidates up to be elected, make outreach efforts for programs like tutoring and hold school boards accountable by looking to prevent or remove "rogue curriculum" from schools.
On outreach, Cihla hopes tutoring and accountability for school boards help increase area testing scores. For example, according to Illinois State Board of Education's annual score card, Pekin High School lags behind state averages on SAT scores and various learning proficiencies.
Fogal said the group can help by attracting volunteers for programs like KidsHope, a nonprofit offering tutoring through school-church partnerships.
"Where are our community members that can bring a presence, a positive presence to our schools and bring a different atmosphere?" she said. "And assist our teachers, assist our staff, assist our schools. Where is that? We need that."
When it comes to rogue curriculum, that's a bit more situational. Cihla said there's no specific list of what qualifies as such.
"A school board member I know said, when the, the school that she's on the board of: 'when they show me a list of books how can I tell if these books are good or bad?'" he said. "Don't have an answer for that yet. There's no one source that we've been able to find."
Cihla said the organization would have to review the materials, decide if a parents' concern was rational or not and then raise questions to the appropriate school board.
For an example of what that may look like, one could look east to Heyworth Junior High School in McLean County. Parents voiced their outrage online and at school board meetings after a teacher put a book called "This Book Is Gay" on a shelf in an eighth grade classroom. The teacher taught English, the book was not a part of her curriculum.
The book includes topics like dating and safe sex practices, as well as brief descriptions of LGBTQ sex acts and diagrams of sexual anatomy. The American Academy of Pediatrics said books like these, combined with comprehensive sex education from early childhood to adolescence, can lead to lower rates of homophobic bullying, dating violence and sexual assault.
The teacher was put on administrative leave and ultimately resigned. She later told NBC's Today Show in an interview that a parent filed a police report about the book, accusing her of child endangerment.
Cihla said this isn't necessarily a template for how he would like to see the chapter get involved with curriculum and content issues. Ideally, he said, kids would never have access to these books in the first place.
"We'd prefer the administration had enough control of the situation that the parents would never hear about it," Cihla said. "Because someone in the administration would have found these books before a student saw them. You know? So that would be the optimum, that a child never sees it."
While the designation as a Moms for Liberty Chapter provides some name recognition to potentially grow the group's members, different people have very different reactions to the organization.
Moms for Liberty has been the center of controversy. A Pennsylvania chapter chair was charged and fined for harassment. A Michigan attorney filed a tax complaint, claiming they're in violation of their nonprofit status. The national organization is preparing to sue nonprofit advocacy group Southern Poverty Law Center for calling them an "extremist group."
Cihla said he's not familiar with any specific instance that concerns him. He said during his research before applying for the group he saw a "lot of very positive things." An example he gives is a recent Moms for Liberty initiative giving more than a million copies of the Constitution to students.
And Fogal said their chapter is committed to being "kind people [that] just stay with the facts."
Finally, Cihla claims the group intends to be nonpartisan, inviting any member concerned with parental rights and improving schools. When asked how important conservative values are to the organization, he expanded on the point.
"It is a safe sentence to say that parents have what's in the best interest of their children in mind. Regardless of who they vote for," Cihla said. "Now is that conservative? It's the traditional definition of marriage, I guess, so I'm not going to deny that it's conservative. But I'm not saying it's Democrat or Republican either."
Fogal also objects to any sort of political label for the group.
"Why would you label wanting to protect the innocence of children in any one camp?" she said.
It should be noted Cihla and Swift are officers in the Tazewell County Republican Party. Fogal is a precinct committeeperson. Mom's for Liberty National's executive director of program development was a Republican Campaign Consultant. The organization's 2023 convention hosted a long list of right wing speakers and influencers, including former President Donald Trump and Florida Governor Ron DeSantis.
When asked about this, Cihla claims it simply shows that Democrats are not willing to stand up for parents' rights.
The new chapter's first meeting is Thursday, October 19th at 6 p.m. at Freedom Hall in Morton.
https://www.wcbu.org/local-news/2023-10-12/how-can-i-tell-if-these-books-are-good-or-bad-new-moms-for-liberty-chapter-starts-in-tazewell-county
Group(s): Tazewell, IL
Source: WCBY.org - All Things Peoria - October 12, 2023
Released:

October 12th, 2023 05:00 PM

Author:

Collin Schopp