WEEK TV Coverage of Protests at Moms for Liberty of Tazewell County's 2nd Meeting
Again, a group of protesters chanted outside the venue at Moms for Liberty of Tazewell County's 2nd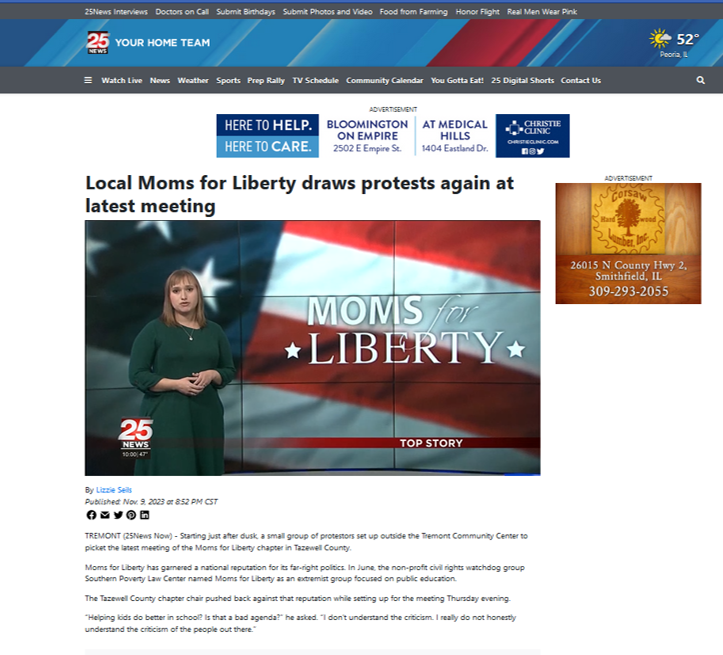 chapter meeting.
Here is a video of the segment: 25News at 10 aired on Thursday, November 9
This is a link to thier website: https://www.25newsnow.com/2023/11/10/local-moms-liberty-draws-protests-again-latest-meeting/
This is the 2nd time that a WEEK reporter interviewed Virg Cihla.
In the 1st interview, Madison Porter attributed statements to Virg Cihla: "Members believe schools should not mention LGBTQ rights and critical race theory in their curricula including Virg Cihla the chair of the Tazewell County chapter." Neither topic was mentioned in the interview.
In this, the 2nd interview, Lizzie Seils's report is introduced as: "It is not often that we cover a book club protest, but the newest Moms for Liberty chapter in Tazewell County continues to draw opposition." One would think that Lizzie Seils, Tyler Lopez, or Amber Krycka would have researched the report in enough depth to know that Moms for Liberty is not a book club.