Moms for Liberty - Bay County is dedicated to the survival of America by unifying, educating and empowering parents to defend their parental rights at all levels of government.
Please invite parents, grandparents, and community members that value parental rights.
We are stronger together!
What have we done?
2023
Legistlation:
Reviews:
Exposed 4 books in Bay County schools with sexually explicit material. Stood up and read excerpts of Ace of Spades when the book was appealed by Bay High School. The school board voted to uphold the finding of the challenge committee to repeal the book. One book remains, Bitterblue by Kristen Cashore. Parents can request to opt out of any book here: https://www.bay.k12.fl.us/Parent-Bill-of-Rights If you need help with this process, let us know.
Participated in the Math and Social Studies curriculum review for Bay District Schools. The new math books met the state criteria. Read the social studies review here: https://www.momsforliberty.org/media/files/files/954cb0f7/social-studies-review.pdf
School Board:
Attended Bay District Schools and Bay Haven school board meetings.
Events:
Aug 5th Brave Books story hour
Promoted:
Supporting efforts to hire more qualified teachers in Bay County. Supports pay raises and teacher education.
School Health Advisory Committee (SHAC). We attend the quarterly meetings and support increased parental involvement.
Mentoring. We support increased mentoring to help students stay on track to learn. 5 of our members are active mentors.
Exposed:
Students are moving to the next grade without meeting Florida grade standards. Students are now 2-3 years behind grade level.
Last year there were 2 schools in Comprehensive Support & Improvement (CS&I) status. (Cedar Grove Elementary was a Tier 1.) This year there are 7 schools in CS&I status. (Tier 1. Lucille Moore, M. Cherry St, Parker Elementary, Rutherford 6-12, Waller Elementary) (Tier 2. Callaway Elementary, Cedar Grove Elementary.)
Guest Speakers:
Helen Holmes - Home school coordinator in Bay County, FL
Tho Bishop - Mises Institute and Chairman of the Bay County Republican Party
Michael Sabo - Principal of Covenant Christian School
2022
Chapter established in Bay County FL May 2022!
Reviews:
Read the sex education curriculum and it meets state guidelines for biological health instruction. Don't take our word for it. You can review it yourself! Instructions: https://www.bay.k12.fl.us/Health-Education
Read the Mental Health curriculum (Life Skills) for Bay District Schools and are concerned that they go beyond teaching resilience and coping to group therapy of kids without parents present or knowing the curriculum. See our review here: https://www.momsforliberty.org/files/2965/
School Board:
Attended Bay District Schools and Bay Haven school board meetings.
Sponsored the Candidate Debate between Francis Gordon and Ann Leonard.
Events:
Hosted the Madison meetup book club
4th of July booth at the Lynn Haven Freedom Festival and parade
Hosted Active Shooter training administered by Bay County Sheriff's department
Promoted:
Mentors - Five members are now active mentors at Bay District schools and are helping to spread the word to get more mentors from the community.
Safety - Heard from Sheriff Ford on the Guardian program
Turning Point USA High school chapters: https://www.tpusa.com/highschoolresources
Exposed:
GSA (Gender Sexuality alliance) /Spectrum clubs are allowed by law and are in several Bay County schools. They were listed on the website without a description except for one school. They are now listed clearly with a description on the websites under clubs.
School Health Advisory Committee (SHAC). We have chapter members now leading the SHAC and are active in their school SACs and PTOs. We support parents and community members joining the SHAC and their child's school SACs!
LGBTQ Jesus in a chemistry classroom was brought to our attention. We encouraged parents to talk to the Principal of the school and we brought it to the attention of the school board and superintendent. The picture was removed.
Teachers encouraging pronouns in middle and high schools was brought to our attention. We encouraged parents to talk to the Principal of the school and we brought it to the attention of the school board and superintendent.
Guest Speakers:
School board candidates: Steve Moss, Chris Moore, Ann Leonard and Francis Gordon. (We did not endorse candidates during this schoolboard race.)
Bailey Minich - Turning Point USA.
Stacey Legg - Elevate Bay mentor program
Sheriff Tommy Ford - Guardian Program
---
Issues 2023
50% literacy rate. Bay County schools have a low average literacy rate. Some schools students are reading at their grade level and beyond. However, many schools have children that are reading 1-2 years below their grade level and are still moving on to the next grade. Bay District Schools says mentors are the answer. Mentors help but more needs to be done.
ESE. When families move to Bay County they are surprised there are not enough Exceptional Student Education (ESE) teachers and opportunities in place. What is BDS doing to improve this?
Teacher shortage and low pay. The state of Florida recently raised the starting salary of newly hired teachers, but did not raise the pay across the board. A new teacher now makes the same salary as a teacher that has been there for 15 years. What is Bay District Schools doing about this?
CRT in schools.
Critical Race Theory (CRT) has become the vehicle nation-wide to cause chaos, shed doubt on the Constitution of the United States, shed doubt on the institution of the family and the belief in God. CRT expouses that the US was founded on white supremacy so all of institutions are inherantly racist. If that were true, you would not see successful people of all races doing well in the United States. Gov Desantis and the legislature in Florida do not buy-in to this theory so have set up laws that CRT using the vehicle of social emotional learning (SEL) will not be taught in Florida public schools. We want kids who can do the basics of reading, writing and arithmetic and who love their country. That is why the Florida DOE went through the math books and removed the books that taught math using SEL.
https://www.fldoe.org/academics/standards/instructional-materials/
Florida Bill rejecting CRT in our schools
Florida Bill requiring civics specifically adding calling out "must include a comparative discussion of political ideologies, such as communism and totalitarianism, that conflict with the principles of freedom and democracy essential to the founding principles of the United States..."
Florida DOE rejects math books that contain CRT in the form of social justice and gender identity for children
Florida Parental rights in Education bill
CASEL is the standard for SEL in the United States. Teachers use SEL in the schools. Transformative SEL is what is called out in the Florida Bill regarding rejection of CRT.
Transformative SEL
In 2023 we participated in Social Studies Curriculum reviews to help choose the new curriculum.
Sex Education. We are for parental rights in education and against indoctrination. We actually had a member of our group review the Bay County sex education curriculum and are happy to report that is does not contain gender ideologies or porn, two topics we feel are dangerous to our kids. It does not say abortion is a form of contraception. It does contain age appropriate biology, anatomy, genetics, and health (to include STD) awareness. Parents are allowed to opt out of sex education for their child so they can address it at home, church or whereever they choose. So our chapter is happy with the current curriculum and parental choice.
Cell Phones. We brought up the issue of cell phones in the classroom. In 2021-2022 there were 3 cases of students missuse of cell phones that made it to the news. In 2022 one middle school has made a stricter cell phone use policy to reduce distractions in the classroom and to stop the use of phones in bullying and instigating fights. In 2023 with the help of the changes in Florida law, the Florida DOE enacted stricker cell phone restrictions.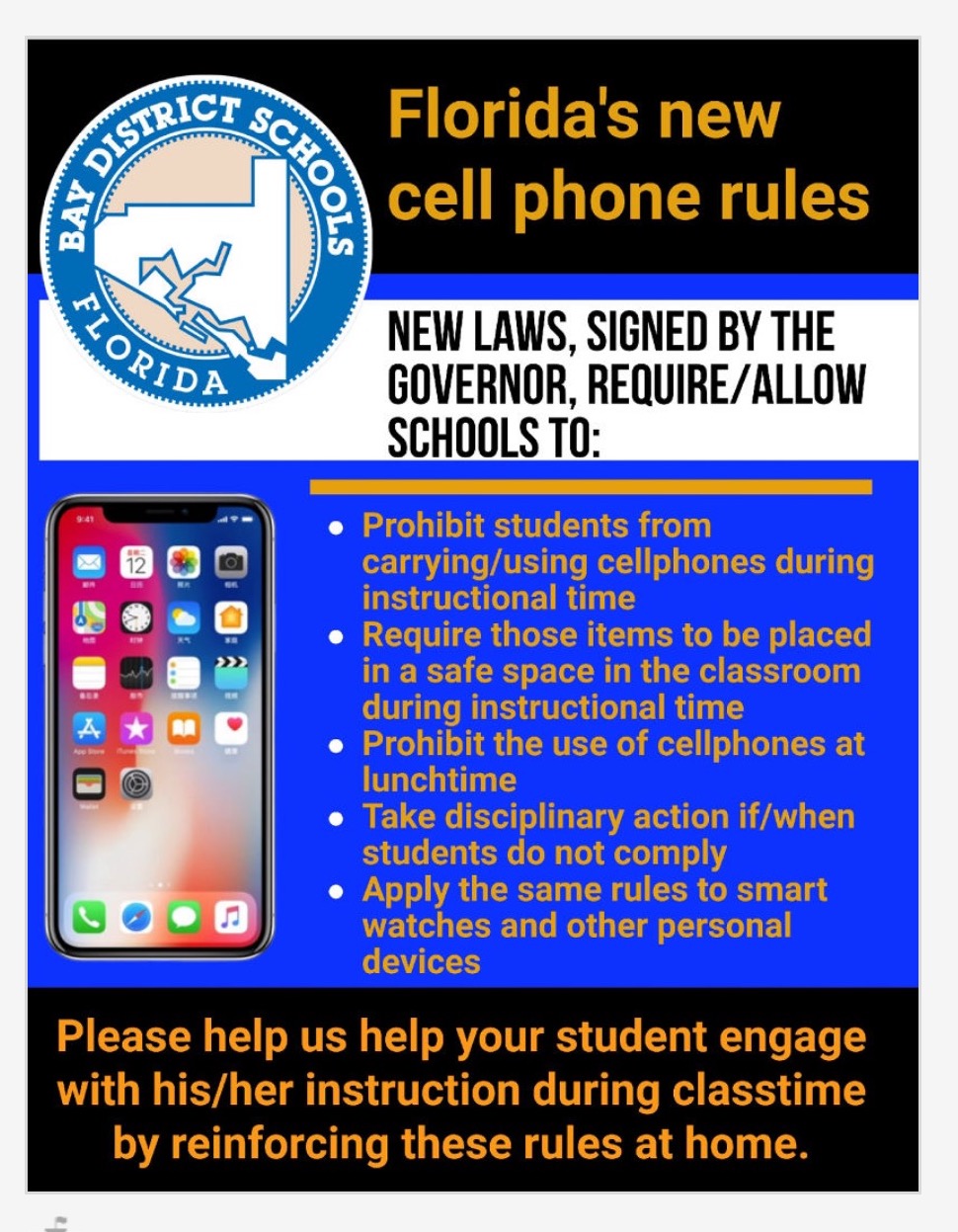 School Safety. In 2019 and 2020 many changes took place on how Florida schools addressed school shootings and school safety in general. Have these changes been made in all of the schools? Have the buildings been secured and armed personnel in place? In 2022 we had Sheriff Ford speak at our meeting and we asked many times at the school boards for updates. In 2023 additional funding was put in the budget for School Safety and District Safety Officers.
---
About Us
We are Moms, Dads, Grands, Aunt, Uncles, Friends

Moms for Liberty welcomes all that have a desire to stand up for parental rights at all levels of government.
Our founders are Tiffany and Tina, moms on a mission to stoke the fires of liberty. As former school board members, they witnessed how short-sighted and destructive policies directly hurt children and families. Now they are using their first-hand knowledge and experience to unite parents who are ready to fight those that stand in the way of liberty.
Our Mission
Moms for Liberty is dedicated to fighting for the survival of America by unifying, educating and empowering parents to defend their parental rights at all levels of government.
How We Fight
Hold Leaders Accountable
We hold decision makers accountable or we work to replace them with liberty-minded individuals.
Spread Awareness
We spread awareness and an understanding of the limited role of government.
Oppose Government Overreach
We stand together against government overreach and intimidation tactics.
Promote Liberty
We promote teaching the principles of liberty in our homes and community.
Engage on Key Issues
We engage our communities and elected leaders on key issues impacting our families.
Activate to Public Service
We activate liberty-minded leaders to serve in elected positions.